The Businesswoman in Shania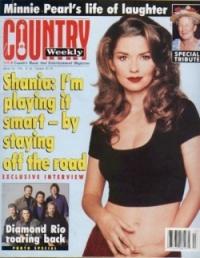 Shania Twain is breaking the rules for young country stars by not touring -~ and she says, "I like to thin k I'm playing it smart."

The vivacious Canadian import told COUNTRY WEEKLY it's a carefully calculated strategy for career longevity that's already paid big dividends.

"I want my career to last," she says. "I don't want to get out there and give everything at once, just try to get all the money while I can. And then everybody would be fed up with seeing me on TV, hearing me on the radio and seeing me twice in concert in the same year.

If whetting the public appetite is her goal, she's succeeded admirably. Her second album, The Woman in Me, has sold an amazing 5 million copies and put her at the top of the music world. With the reins of her career in her own hands, Shania has now focused on ensuring that her remarkable ascent to the big time is no flash in the pan.

"What has given me such satisfaction, especially as a songwriter, is that this latest album has sold what it's sold on its own," she confided. "I didn't have a tour. I didn't package a marketing thing. We didn't put a tour together to hype the album. We did nothing to hype the album; the album sold on its own.

Shania believes this better allowed her formidable talents to be duly recognized, because people can't assign the credit for her accomplishments to a major tour or a massive promotional and advertising campaign.

"Some people would have said, 'Oh, well, her album sold so well because she's an active touring performer,' or 'It's because she's wiggling her butt,'" the midriff-baring beauty said with a laugh. "There's no confusion now. The album's selling because it's selling." And radio is playing her songs in every sense - she sang and cowrote all 10 tracks on The Woman in Me.

"The other thing is, we haven't given the fans everything at once. It's one thing if you're big and everything's happening really fast and it's in your face. But there's no tour. We've only given them a piece of it. A lot of people are maybe agitated by the fact that I'm not touring, but the fans have been extremely patient, actually. The fans have been great."

Touring is traditionally one of the first things a country artist does after recording a major-label album. Not only does it bring the newcomer an instant infusion of muchneeded cash, it generates fan awareness and record sales. Mercury Nashville Records is obviously comfortable with Shania's decision to wait. But it's a mistake to think she has an aversion to live shows.

"I love performing. It's a party to me," she insisted. "I get out there and I have a great time. I'm very energetic, very athletic, a party animal onstage. Of course I have a craving and I get a thrill from it. I get off on the music and the performing."

Many performers say fan adulation can be an addictive drug that compels them to be onstage every night to get that "fix" of applause. Not so with Shania, especially if that means she has to play an endless string of club dates as most newcomers do.

"I've been breathing in secondhand smoke and avoiding flying bottles since I was 8 years old," she explained. Shania's parents recognized her talent early and encouraged her to perform in and around Timmins, the northern Ontario town where she grew up.

"I don't know about other country artists - maybe they only start in bars at 18 years old. I can't tell you how ready I was to make a change. I had a childhood career. I had already been doing this for over 20 years when I got my record deal. I enjoy the break.

"I have to admit that now I'm getting a little antsy because I haven't been out there in awhile. I want to see the reaction and I want to get out there with the fans."

That's why she's currently embarked on a Fan Appreciation Tour of autograph signings in shopping malls, music stores and radio stations in a handful of cities.

She broke attendance records for the Minneapolis Mall of America, where she began the tour last month. Mall officials estimated a crowd of more than 20,000 strained for a glimpse of country's newest superstar. Shania signed 500 autographs in four hours, taking occasional breaks to climb on top of video monitors and serenade her admirers with a cappella versions of "Any Man of Mine" and "God Bless the Child."

"Shania Twain was by far the biggest autograph-signing we've had since the mall's opening in 1992," says the mall's events manager, Julie Syverson. "In fact, it's one of the two largest events we've had of any kind."

"I was overwhelmed by the response," Shania told COUNTRY WEEKLY "I still can't believe how warm and enthusiastic they were, especially after waiting hours in line. For me, time just flew by. "I want to see the fans and just see their faces and expressions. I want to get something from that. I mean, I'm excited about it," she explained.

"These people have been supporting me without a tour and I want to thank them in person. I want to go there and meet these people. I want to bring a mini-Fan Fair to them and promise them that they'll get a tour worth waiting for.

"I want to be onstage performing when I'm doing the album justice, when I'm doing seven hits instead of two. I mean, how do you perform for an hour or an hour and a half with two songs?"

The usual way is to pad the set with cover tunes. That's not Shania's style.

"I'm a songwriter," she asserted. "I take great pride in doing my own songs. I decided to pursue a recording career because I thought, 'What am I writing these songs for?' That's what my goal has always been; I just didn't know when to do it."


Some suggest that Shania, who's married to successful pop producer Robert John "Mutt" Lange, isn't hungry enough - financially - to tour.

"The truth is that I'm a very independent person," she countered. "I don't feel wealthy, not in the least. There's no way that I'm going to give up on my career until I have my own money, and that's all the're is to it. I have basically sacrificed a year of making a lot of money touring. There are other artists out there making money touring, and I'm not making it. I've got staff, I've got lots of things I could use that money for.

"Mutt is very sweet about it because, of course, he gives me that 'Don't feel pressured' and 'You know I'm here for you' and all that kind of stuff. But it doesn't make any difference. It has to be my own money. I have to do it myself.

"I've worked so hard for this. My family sacrificed so much for this. Damned if I'm going to give up now because I'm married and comfortable. No way. I couldn't take it. I'm too energetic and much too independent for that. So, no. That's definitely out.

"You could never put me in a comfort zone and expect me to sit still. There's just no way," Shania declared.

"When it comes to my career, sure, I could say I want everything right now. No. I'm not into that," she continued. "I want to be around for a long time. I want to put a great show together. I don't want to put the cart before the horse."
Bruce Honick, March 26/96, Country Weekly cover