Shania - Stardom By Storm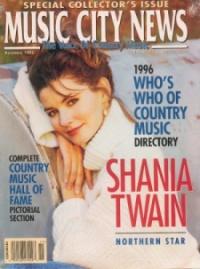 Only few go there, and those who do, rarely come back. It's a place where relatively new names in the music world quickly launch into a circle of stardom that's as phenomenal as stumbling onto the eighth wonder of the world. It's quite humorous, though, that only a couple of years ago, many of us were having difficulty pronouncing country music's latest wonder, Shania Twain's, name correctly.

Since her debut, the name Shania is now household and she's strolled right along that path to sheer stardom - standing on the pedestal with other quick country heroes and heroines as Garth Brooks, Mary Chapin Carpenter, Wynonna, Trisha Yearwood, Billy Ray Cyrus and Tim McGraw. Although all of these artists had been honing their craft for a long time, it's sometimes one song that does it; an image that's surprisingly intriguing or an overall charisma that triggers us all to tune in for their next appearance, next song or next move.

Although it took this Canadian song princess' second Mercury album, "The Woman In Me," to completely break through the walls of stardom, every move she's made since has been a right one. Her signature song, Whose Bed Have Your Boots Been Under, skyrocketed to the top of the country charts and sparked an enormous domino-effect of success stories. Following up Whose Bed was the scorching Any Man Of Mine. Her "The Woman In Me" project broke previous records held by Wynonna's self-titled debut and Mary Chapin Carpenter's "Stones In The Road," both of which were No. 1 for five weeks. The album quickly reached gold status and soon achieved the platinum sales mark.

Twain not only soared to the top of the country sales charts, but hit the top of Billboard's Top 200 chart - out-selling such pop-rock greats as All-4-One, Michael Jackson, Hootie & The Blowfish and Madonna. Ultimately, the album was certified double platinum only six months after its release. Along with her phenomenal radio and retail success comes a series of award nominations. In her native country, Twain swept the nominations for the Canadian Country Music Awards and took home five honors of her seven nominations. She garnered the Female Vocalist of the Year award; Single of the Year for Any Man Of Mine; Album of the Year for "The Woman In Me;" the SOCAN Song of the Year for Whose Bed Have Your Boots Been Under; and Video of the Year for Any Man Of Mine.

The Country Music Association also took significant notice of this rising songstress. Twain is nominated for three 1995 CMA Awards, including nods in the coveted Horizon Award category and Single and Video of the Year for Any Man Of Mine.

Twain has traveled from coast to coast and around the world, promoting "The Woman In Me."The singer/songwriter, who's also wife to fellow writer and rock producer J.R. "Mutt" Lange, however, has yet to perform her first public concert in support of the album. Instead, she has spent the past ten months on the road making promotional appearances, radio visits and meeting with the press. She's been featured in such publications as the Los Angeles Times and Entertainment Weekly and has made appearances on The Tonight Show With Jay Leno, Late Night With David Letterman and Entertainment Tonight.

With such widespread exposure and towering success already, the name, Shania, which is actually an Ojibway Indian name meaning, "I'm on my way," has certainly become an appropriate moniker for the artist. She's been on a musical path since she could walk. While growing up in the great northland of Timmins, Ontario, where both her father and mother were raised, Twain remembers singing at a local club before she was even a teenager.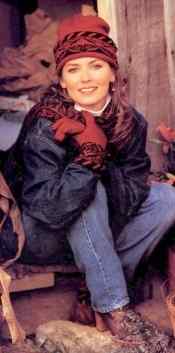 "If not for my parents," she explains, "I'd still be singing in my bedroom. From the age of eight, I was doing weekends, the odd gig here and there. I did everything my parents could get me on. Every TV station, every radio station, every community center, every senior citizen center," she laughs, "They had me doing everything."

Twain's lifestyle, unlike most little girls' who grew up playing with dolls, became saturated with singing and playing the guitar. Even later on, during her summer time, Twain worked with her father as a foreman for a 13-man reforestation crew in the middle of the Canadian bush.

The burgeoning "star to be," unfortunately lost her very influential parents in a tragic automobile crash when she was only 21. It was then that she became even more inspired to pursue her music.

"My mother lived for my career," says Twain. "We were extremely poor when I was a kid, and my mother was often depressed with five children and no food to feed them. She knew I was talented and she lived with the hope that my abilities were my chance to do something special."

If "something special" means eventually raising her two younger brothers and sister, Twain deserves the title. When her siblings eventually grew up and followed their own paths, Twain began punching in her talent like never before - performing as much as possible and taking steps toward getting her music to the public.

Her love for music obviously paid off. Now, in the midst of promoting the title cut of her sophomore album, having filmed the video in Egypt, doing product endorsements with such companies as Washburn Guitars, and planning to hit the concert trail in '96, she's perhaps most in love now with the devoted fans who've cradled her from hard times to most deserving recognition.

"As a woman, when you're in love with someone, you just want them to love you back," she explains of her fan appreciation. "You want to do everything you can to please them. You want to make sure you wear the right thing. You want to make sure that they like your perfume, and you want to wear your hair the way they like it. It's the same type thing and is just part of being a responsible person. You're supposed to be out there to please the other person and you only hope to get that in return. When fans do that - when they please you because you're pleasing them - it's a great relationship."
Kimmy Wix; Music City News cover story, Nov/95 issue